Want to Hire or Purchase Promotional Vehicles?
At Eco Advertising Ltd we provide a hire service and an option to purchase promotional vehicles. From our fleet of Pedicabs, pedal-assisted battery-operated vehicles, you can purchase or hire, transport vehicles, Adbikes, Mobile Billboards, Food sampling, Refrigerated vehicles for sampling chilled products, On-street Music solutions, Beat Bikes for static use, easily set up with own power supply or our Beat Boxes ideal for Parades, Promotions, and Protests.
Bespoke custom bikes made to order
Retail and food sampling bikes can be made to order, just call +353879676601
Build your own bespoke solution, talk to us about custom made promotional vehicles for food sampling, transport, advertising and experiential. Other vehicles include our pedal-assist battery-operated vehicles, ideal promotional vehicles for Out Of Home advertising. Besides a fleet of promotional Pedicabs (Eco Cabs & Pedal assisted Trikes) we have Mobile Adbikes for 6 Sheet posters and battery-operated Sampling units. 
Our Beat Bike can bring the party wherever it goes. This unit is a mobile entertainment unit kitted out with a professional DJ mixing desk, as well as magnificently crisp 800-watt speakers for amazing audio experiences on street in parks. Our Beat Boxes are a mobile audio solution ideal for parades, promotions, and protests providing a mobile audio system delivering music and is a PA system.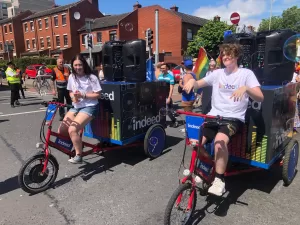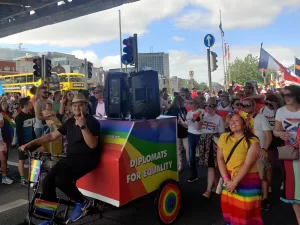 Our fleet of Adbikes (OOH advertising) provides marketing solutions for high impact Business to Consumer campaigns.
Ideal for targetted, tactical, on street promotional campaigns.
Give us a call if you're looking to Promote, Engage, Shuttle & Convert customers.
Mission statement:
Create awareness of our clients brand while being conscious of our environment and natural resources and where possible reduce our carbon footprint. It's our responsibility to use environmentally responsible procurement practices, new technologies, disposal procedures and to consider the whole life cycle of our campaigns. Sustainability is at the core of our thinking when planning, design, operation and decommissioning of all our services and operations.